A graduate of the Welsh College of Music and Drama, Boyd Clack has worked in every medium, from television roles, to sitcom writing and worked on theatrical one man shows. He has emerged as a figure of great talent and stature within Welsh performing arts, and holds maybe a cult status amongst fans. Boyd Clack is a true genius in his field and continues to impress and delight us with quality and genuinely hilarious yet thought provoking shows.
"I think people such as myself should not be afraid to say it and should speak about our problem" Boyd Clack
About Boyd
Boyd Clack was born in 1951 in Vancouver, to Welsh parents. His film and television acting credits include Pirates of the Caribbean 4 – On Stranger Tides, cult film Twin Town, Taliesin Jones, Risen and hit TVseries High Hopes, Satellite City and the soon to be seen drama series Baker Boys. He also co-wrote both High Hopes and Satellite City. Earlier this year he starred as Con in the National Theatre of Wales's inaugural production of A Good Night Out In The Valleys to huge critical acclaim.
In the 70s, Boyd formed a band called The Lemmings. They played in Wales, Holland, Germany and London. He released his first solo album Welsh Bitter in December 2009 as a tribute to that era in his life. He regularly attends local school and college events as well as working with young people including the 'Valleys Kids' charity – one of his projects involved co-writing and performing in Safe House, a short film with local youngsters. Boyd released BBC Wales' first ever Children In Need Single – Day Dream Believer in 2009. Boyd is also the Patron of Mental Health Support Charity – New Horizons. He has recently been made an ambassador to the Variety Club Children's Charity and Patron of the Royal Commonwealth Society of Wales.
Boyd has starred on television in roles written himself. In 1991 he presented a play at the Chapter Arts Centre, Cardiff; fondly known as Satellite City. The play went on to radio and then in 1996 (to 1999) Boyd co-wrote and starred in three series' and a special, which went on to win a BAFTA Cymru award for 'Best Light Entertainment'.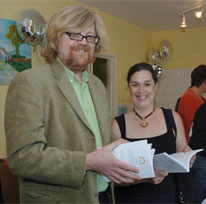 Following the massive domestic success of Satellite City Boyd then went on to write the popular Welsh TV series High Hopes. The pilot episode originally aired in June, 1999, across Britain. However it was not until three years later in 2002 that the pilot became a series, where it emerged as a lighter sort of comedy, but unfortunately unlike the pilot, the series has only ever aired in Wales.
Boyd has a great passion for his local community, and the underprivileged youth of the valleys. He grew up in the Rhondda spending a lot of his time writing in Tonyrefail, being inspired by the beautiful surroundings in the Welsh valleys.
---
Kisses Sweeter than Wine
Published by Parthian Books on 11th November 2010, priced £14.99
A literary memoir of love, sex, drugs, music and madness by one of Wales's major cultural figures
"Awesome and hilarious…. I cannot recommend this moving, truthful, funny and endearing roller coaster of a ride enough." Eve Myles, actress, Torchwood
"The best thing I've read in ages and the best memoir about growing up Welsh and male ever" Lewis Davies, author Work, Sex and Rugby
Boyd Clack is a man of many talents: an actor, writer, singer, musician, and enthusiast. Kisses Sweeter Than Wine is his brutally honest and completely absorbing self-written memoir.
As an ordinary lad from Tonyrefail via Vancouver, Boyd tells his extraordinary life story: learning to cope with the early loss of his father; abandonment by his widowed mother and subsequent separation from his siblings; growing up in the valleys before becoming a young man in a band, leaving Wales to seek fame and fortune in faraway lands – Australia, Canada and Amsterdam.
Revealing his experiments with sex, drugs, rock 'n' roll, and even a Kabalistic cult, Boyd lays bare his inner most thoughts and the path that led him to severe depression and ultimately a mental breakdown.
It was a chance audition in 1983 at The Royal Welsh College of Music and Drama in Cardiff that ultimately sparked an about-turn in his life and set him on course for an illustrious show-biz career that has earned him his cult status with fans throughout Wales today.
Mental Health Support
Mental Health Support is a project run by New Horizons Mental Health and Emotional Well-being Resource Centre. Mental Health Support aims to provide accessible advice and information about mental health issues